| | | |
| --- | --- | --- |
| | | Andy has been taking part in the filming of new gangster movie, recently he showed up in Milan with Huang Xiao Ming, Wong Cho Lam for outdoor filming. Andy's charisma is irresistible as always, it's completely surprising and lucky if you meet him aboard! |
Nominated for the Best Actor of Hong Kong Film Awards
Congratulations to Andy! He is nominated for the Best Actor of the 35th Hong Kong Film Awards with the movie "Lost and Love"! In the movie, Andy's acting is enhanced significantly with the unique play. Most importantly, his acting has been truly recognized by the general public and surely it is a new milestone of Andy in the movie's aspect.
"The Bodyguard" Promotion Activity
| | | |
| --- | --- | --- |
| | | The movie "The Bodyguard" will be showing on theatre on 1 April, Andy will attend the movie's event on 20 Mar (Sun) in MOKO Hong Kong. Fans do not miss out to meet Andy and his humorous side! |


| | | |
| --- | --- | --- |
| | | Welcome party "2016 Hand in Hand" has held on 12 Mar (Sat), all new members were exciting and expecting when they arrived HK AWC, they were even in high mood when Andy showed up. There were different activities like chitchat with Andy, knowing more about "Andy World Club", meeting new friends from different places, enjoying and sharing funs of being a part of AWC family. The highlight session was the part of photo taking with Andy! Members have long been waited for and cherish much this precious opportunity! Many of other gatherings with Andy and members are coming, let's join AWC activities to experience the warmth of "AWC family"! |

Easter is coming, Members in the Mainland are excited to meet the others again, Shanxi and Guangzhou members will hold an Easter dinner event on 26 and 27 Mar (Sat & Sun) respectively for happy gathering in the weekend! Mild weather is especially good for outdoor activities too, let's plan more joyful gatherings in the near future! Please visit "Discussion Board" for further details of "AWC Members – Affiliates Spontaneous Activities".
Taiwan members are grouped to join the running event held by Syin-Lu Social Welfare Foundation on 26 March (Sat) at Riverside Park, Taipei. Members can enjoy outdoor exercise, also accompany with people with intellectual disability to enjoy sunshine and fresh air, it is such a meaningful activity. Family members are encouraged to support the disabled by action with love! Please visit
"Discussion Board"
for further details of
"
AWC Members – Affiliates Spontaneous Activities
".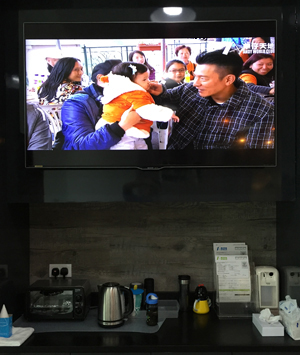 The video of "Dream Comes True (Hong Kong) BBQ Gathering" will be shown starting from 30 Mar (Wed) till 30 Apr (Sat) in HK AWC. Let's come and share the happy memories of this event in our centre.


Korean Class – Advanced course (Feb - Jul 2016)
Members have learnt basic Korean in elementary course that may experience the joys of learning. We have held an Advance Korean Class for your further up learning. Apart from emphasising on Korean Conversation, it focuses on Korean reading comprehension, introducing of Korean slang, etc. We are sure that the advanced course will make you better understanding of Korean!
Balloon Twisting Class – Easter Series
| | | |
| --- | --- | --- |
| | | The latest balloon twisting class will be held on 20 Mar (Sun), participants are able to twist a lovely rabbit by yourself as a cute ornament for Easter festival. Members not only can release their art talent but also have more interaction between members or better parent-child relationship. |


Collection of 2016 Membership Card and Uniform
2016 Membership Card and Uniform are ready for collection now! We have gradually sent out to overseas members by mail since 9 Mar; also we have sent out "Collection of 2016 Membership Card & Uniform" notice by mail or email to Hong Kong members too. Members are welcomed to collect your new membership card and uniform directly from HK AWC from 14 Mar (Mon) until 25 Apr (Mon). Please come and pick it to enrich your Andy's collection!

For further details, please refer to our web notice.


Watch out! Andox and Box are coming to the Ground Floor of Phase 3 New Town Plaza at Shatin this Easter holidays! They are invited to join a friend's birthday party on 26-27 Mar (Sat & Sun). Don't miss out! Both of them would bring lots of amusement and surprises to you! Let's come to show your support on the days!



「Cyril Magic.Up Close & Personal Live in Hong Kong」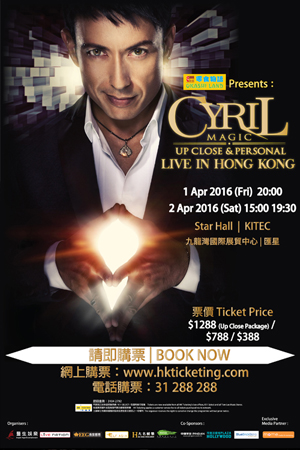 Focus Theatre specially presents the world class magic show! Returning to Hong Kong, the world's top class magician Cyril Takayama is renowned for his breathtaking performance at Star Hall, KITEC on 1-2 Apr (Fri & Sat). Audience even will have a chance to go on stage to perform some fascinating tricks together with Cyril. AWC is able to grab some free tickets for members from the organiser, please check the details about the ticket application on website now. Let's seize this golden chance!