AXA presents My Love Andy Lau World Tour- Hong Kong 2018< Members Concert Refund Arrangement>
---
2019-01-31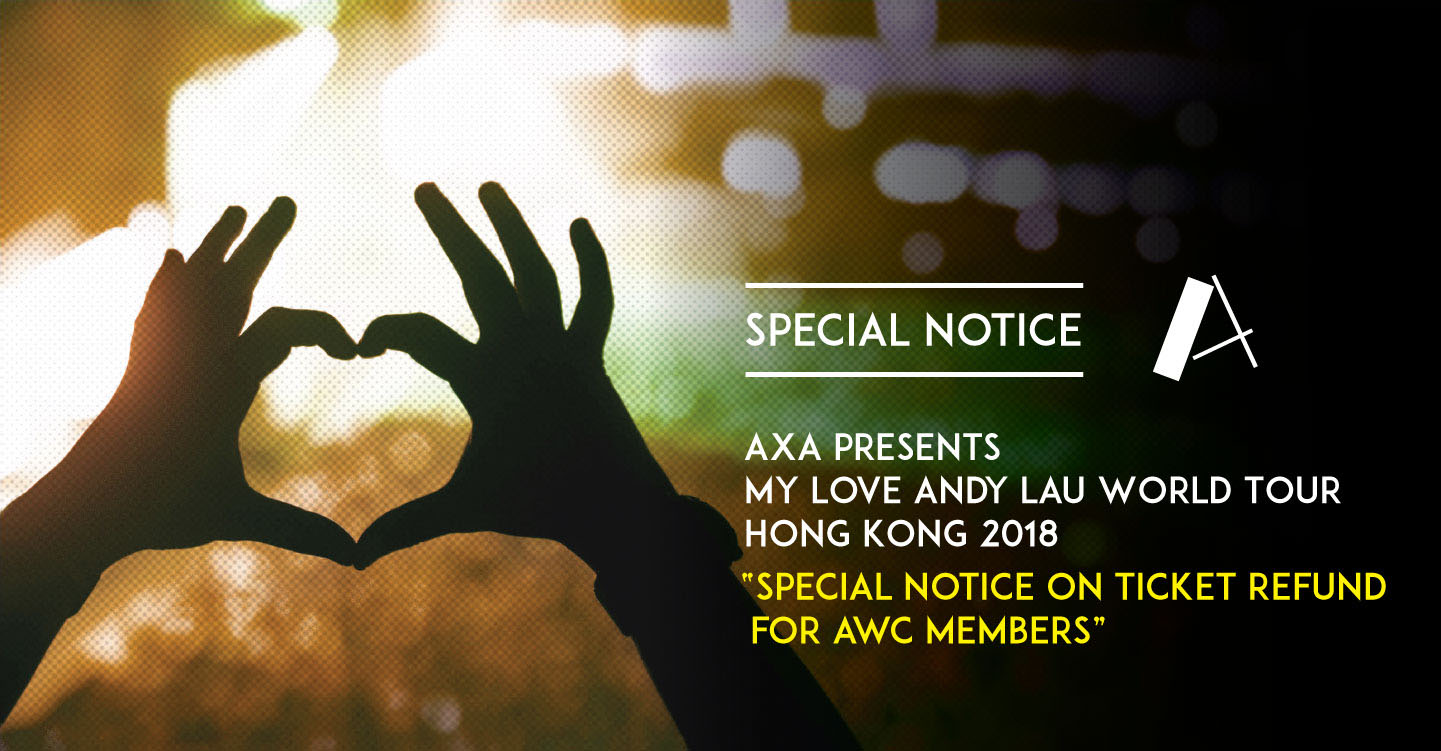 Dear Family Members,
The Concert Organizer, Focus Entertainment Limited, earlier has received written notification from the Leisure and Cultural Services Department that the booking application for the Hong Kong Coliseum for December 2019 has not been accepted, and therefore will not be able to reschedule the cancelled shows.
We, on behalf of the Concert Organizer, would again like to express our deepest apologies to all the affected AWC members and will now announce the members' refund arrangement. The refund will be calculated based on the face value of the ticket(s), administrative or handling fees will not be refunded. We will only handle members' refund request for the concert tickets of the cancelled concerts purchased through 'Andy World Club', refund request for tickets purchased through other channels will not be processed.
To facilitate processing the refunds in a smooth and efficient manner, refunds can only be processed BY POST. Members who purchased tickets through AWC, please download the < Concert Refund Request Form – by Post for AWC Members Only > and view the refund by post request procedure and terms & conditions. The completed application form and the original concert ticket(s) (Note 1) will need to be sent to the Concert Organizer 'Focus Entertainment Limited' for processing.
Refund request by post period: 1st February 2019 to 15th April 2019. Requests received after the postmark deadline of 15th April 2019 will not be accepted.
Successful refunds will be credited directly to the original payment credit card / Alipay account / designated valid Hong Kong dollars savings or current bank account registered with a Hong Kong licensed bank on or before May 31 2019.
Remarks:
Note 1: 28th December 2018 tickets – without stubs; 29th December 2018 to 3rd January 2019 tickets – with stubs intact. Photocopies, prints or photographs of the tickets will not be accepted.
For any enquiries, please feel free to contact us by phone or email.
Andy World Club
31-01-2019
More information